Yoga ist meine große Leidenschaft.Es vereint die Freude an der Bewegung,die Schönheit und Ausdruckskraft unserer Lebendigkeit mit der stillen Teile der inneren Erfahrung.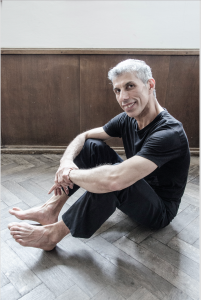 Ich bin in Teheran geboren und aufgewachsen und kam erst nach meinem Abitur nach Deutschland,wo mich meine Begeisterung für Film und Theater geradewegs auf die Schauspielschule führte.Danach war ich auf einigen Bühnen unterwegs und habe in diesen Jahren auch die Arbeit vor der Kamera kennen und lieben gelernt.
Als Schauspieler war ich mir meines Körpers stets sehr bewusst,trainierte ihn sorgfältig,um ihn dabei in den verschiedenen Rollen einsetzen zu können.
Dann begegnete mir vor einigen Jahren die alte und doch faszinierend zeitlose Praxis des Yoga. Auf einmal öffnete sich mir ein Weg,Körper,Geist und Seele in eine harmonische Einheit zu bringen,ein Weg der Ganzheit und der Heilung,den ich bis heute in Dankbarkeit und Staunen beschreite.
Ich fühlte mich angekommen und bin tief eingetaucht in die Praxis und Lehren des Yoga,was mich schliesslich 2011 zu meiner Yogalehrer-Ausbildung im Airyoga München geführt hat.
Seither begleite ich mit tiefer Freude viele Yoginis und Yogis auf ihrem Weg-das Unterrichten ist für mich ein erfüllender,stetiger Fluss von Geben und Empfangen.
In den letzten Jahren habe ich zahlreiche Zusatzausbildungen bei namhaften Lehrern unterschiedlicher Yogatraditionen im In-und Ausland absolviert,um für meine Schüler mit der größtmöglichen Kompetenz da sein zu können.
Meine Klassen sind geprägt vom achtsamen Umgang mit sich selbst und einer intensiven, gefühlvollen Praxis,die uns in ein befreites Sein jenseits allen Leistungsdruck führen soll.
Ausbildungen,
RYS 200 Stunden Vinyasa Yogalehrer Ausbildung, Air Yoga München
RYS 200 Stunden Prana Flow Ausbildung, Shiva Rea,Christine May
RYS 300 Stunden Hatha Yogalehrer Ausbildung, Gyan Yoga Breath,Rishikesh,Indien
Yin Yoga Ausbildung,Air Yoga München , Tanja Seehofer
Yoga Nidra Ausbildung,irest.us,New York,Richard Miller
Thai Yoga Massage Ausbildung,Terramedus
Klangschalen Meditation/Reise Ausbildung, Stephan Faulhaber
---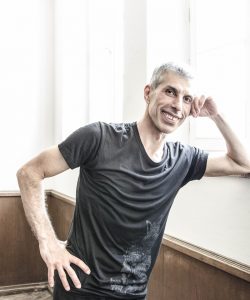 Yoga is my passion. It combines the joy of movement, the beauty and the expressive vigour of our vitality with the deep elements of inner experience.I was born and raised in Teheran and after graduating from high school I came to live in Germany. It was my keen interest in film and theatre that then steered me towards drama school. This developed into a stage career where I discovered my love for working in front of a camera.
A key string to the actor's bow is a malleable body and I was always very aware of this, training diligently to improve my stage presence.
And then a number of years ago I encountered the ancient yet fascinating timeless practice of yoga. Suddenly a door opened for me, and with it the pathway to integrating the mind, body and soul in perfect synergy, the pathway to wholeness and healing, the pathway that I continue to follow in awe and gratitude.
I felt at home in this yoga world, delved into its practice and teachings, which ultimately led me, in 2011, to complete my teacher training at Airyoga in Munich. I take huge pleasure in guiding my yogis in their own yoga practice. To me teaching means receiving and giving, keeping the flow of energy circulating in our lives.
Over the years I have completed numerous other teacher training programmes both here and abroad with well-known yoga instructors of different yoga traditions. This has greatly enhanced my competence to pass on knowledge to my students. My classes are shaped around a mindful awareness during yoga postures and an intensive yet sensitive practice, inching our way towards a liberated self, unencumbered by any pressure to perform.
Teacher Trainings,
RYS 200 Hour Vinyasa Teacher Training, Air Yoga Munich
RYS 200 Hour Prana Flow Teacher Training, Shiva Rea, Christine May
RYS 300 Hour Hatha Yoga Teacher Training, Gyan Yoga Breath,Rishikesh,India
Yin Yoga Teacher Training, Air Yoga Munich, Tanja Seehofer
Yoga Nidra Teacher Training, irest.us, New York, Richard Miller
Thai Yoga Massage Therapy Training, Terramedus
singing bowls Meditation/Journey Training, Stephan Faulhaber